Brave Dwarves II
Free Download Brave Dwarves Game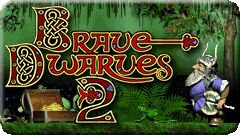 Sometimes brave things come in small packages! Welcome to Brave Dwarves 2, where it's your job to pilot your diminutive hero through six different worlds in an amazing adventure. Collect artifacts such as the Pin of Silence and the Hammer of Path to help you in your quest to collect all the keys and defeat the ruthless bosses.
Brave Dwarves Full Version Features
Unlimited Play
Play as either Warrior or Magician, each with different strengths
Beautiful 3D rendered graphics
Six different episodes to explore: Moon Walk, Old Mine, Magic Forest, and more
Five different artifacts to buy or collect
Five different ring types that bring you special powers
Brave Dwarves Download
Free download Brave Dwarves 2 - download the most interesting adventure you've ever gone through.
Brave Dwarves 2: Game Screenshots