MahJong Game
Download MahJong Deluxe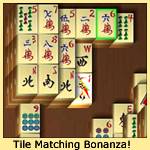 NingPo MahJong Deluxe
The goal of NingPo MahJong Deluxe is to remove all the tiles from the board by finding matching pairs of 'free tiles'. A tile is considered free when there is no tile on top of it and if either the left or right edge is unobstructed.
Two tiles match if they are of the same suit and value. The honor tiles do not have a value, but can be matched with any other tile of the same type.
Mahjong game is over when all tiles are removed or there are no more matching free tiles.
A free tile is outlined by a green box when the cursor is over it. A blocked tile is oultined by a red box.
Relax while you enjoy this classic solitaire game of tile matching. Try MahJong Deluxe out today!
Match tiles and clear the board in this exciting new version of the classic solitaire game - MahJong.
MahJong Game Features
18 challenging MahJong game types!
Customize your play with new tilesets and backdrops, including a special theme with all your favorite characters!
Soothing music soundtrack!
High score tables for every MahJong layout!
Never get stuck again! Unlimited Undo, Hint, and Shuffle features keep things moving!
Free Download MahJong Game