Typer Shark
Download Typer Shark Game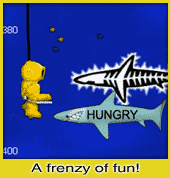 Typer Shark Deluxe is a typing tutor unlike any you've ever seen before! Dive deep into the ocean depths with only your keyboard for protection... and zap menacing Word Sharks by typing the words printed on their sides. Discover sunken treasure, or test your skills to the max in the Abyss!
Typer Shark features three ways to play: you can choose your path by progressing through the Adventure mode, play a fast arcade game in the Abyss, or improve your typing skills with the Typing Tutor mode.
Play the super-charged new version of Typer Shark - typing tutor with teeth! Zap sharks and piranha as you dive for sunken treasure!
Typer Shark Game Features
Typer Shark Deluxe is packed with new features:
Unlock the secrets of Adventure mode!
All-new graphics and sound!
New mode - dive deep into the Abyss!
Record high scores for posterity!
Hone your typing skills in Typing Tutor mode!
New enemies and deadly boss monsters to defeat!
Download Typer Shark Game
Free download typing tutor game - Typer Shark Deluxe!