TipTop Game
Free Download TipTop Game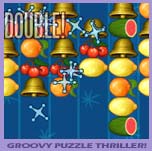 TipTop Deluxe
Play the swingingest new puzzle game, with plenty of Fifties style and Vegas pizzazz. Match and clear all the slot symbols, use magnets, bombs and other special blocks to score crazy combos, but don't break the bank! TipTop game's a blast!
The goal of TipTop game is to match 3 or more similar game blocks together. Clear away enough blocks and advance to the next level!
Drop blocks to make matches of three or more. When a match is made, those blocks are cleared and all the blocks above fall down to take the place of the cleared blocks. If you make more than one match at a time, you can earn a combo bonus.
You will lose the TipTop game if any column reaches the top or bottom of the playfield.
Download TipTop Deluxe and check out all these features:
3 great game types: retro Regular mode, souped-up Strategy mode and pop-the-clutch-and-punch-it Speed mode!
The kookie bonus levels are the most!
Short on time? Don't get bugged, save your game and play later!
High scores for all modes!
Hep music and screamin' sound effects!
Free Download TipTop Game